4th course on Genome Instability and Human Disease
This edition will take place in real-time virtual format (CET, Paris time). 
Genome instability is a hallmark of cancer cells but also a cause of genetic diseases in humans. Our understanding of the causal relationships between genome instability and the development of human diseases rely on our knowledge of the basic mechanisms of DNA and RNA metabolism, from the spatial genome organization to the chromatin landscape up to the regulation of genome expression during development or in response to genotoxic stress. 
The dysfunctions of these basic mechanisms related to genome metabolism underlie human diseases including cancer, aging, neurological disorders and immune deficiency.
The main topics are:
Basics mechanisms for maintaining genome stability (repair, replication, DNA damage signaling, spatial genome organization).
Dysfunction of these pathways in human diseases (cancer, aging, immunodeficiency).
Molecular signature of Genome Instability.
The DNA Damage Response as anti-cancer therapeutic targets and tools for diagnostic/prognostic.
SPEAKERS
Karim Labib, University of Dundee, UK. 
Eva Petermann, University of Birmingham, UK
Allison Bardin, Institut Curie, FR
Juan Mendez, CNIO, ES
Renata Basto, Institut Curie FR. 
Marc-Henri Stern, Institut Curie, FR
Manuel Rodrigues, Institut Curie, FR
Joanna Loizou, Institute of Cancer Research, Vienna
Constance Alabert, University of Dundee, UK. 
Sophie Polo, Université Paris Diderot, FR
Daniele Fachinetti, Institut Curie, FR
Vincent Géli, CRCM, FR
Claus Azzalin, Institut De médecine Moléculaire, PT
Domenico Libri, IJM, FR
Sebastian Amigorena, Institut Curie, FR
Erika Brunet, Institut Imagine, FR
Christophe Lachaud, CRCM, FR
Jean Soulier, Hopital Saint-Louis, FR
Pablo Radicella, CEA, FR 
Registration deadline: January 20, 2022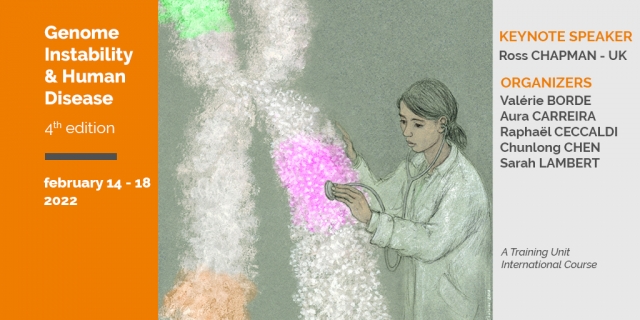 Organized by: